Parking
You will find our parking spaces directly at the hotel.
Cost:
€ 1.00 per hour
€ 4.50 daily maximum rate
€ 9.00 overnight
It is not possible to reserve in advance. Around the hotel there are also parking spaces in the residential area free of charge.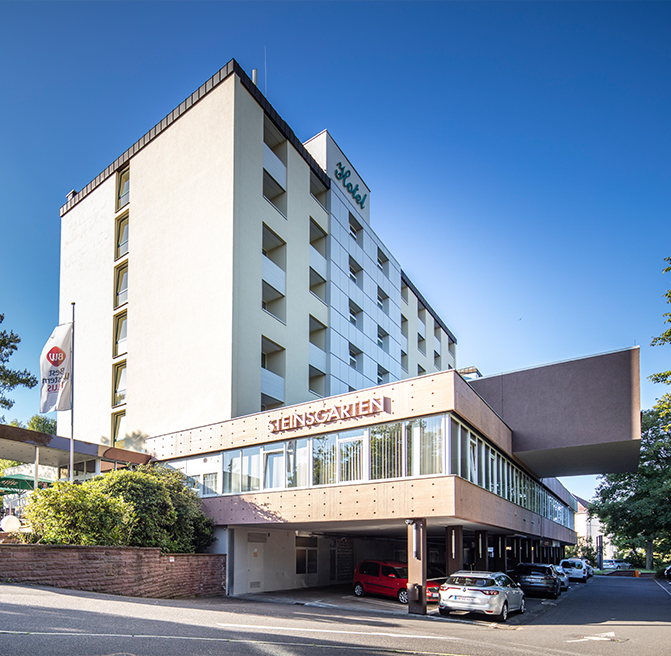 E-charging point
The Best Western Plus Hotel Steinsgarten with its three charging stations for all common electric cars one of the official Tesla Charger destinations since 2018.
There is an e-filling station with three charging stations right by the hotel – two of which are intended for drivers of Tesla electric cars. With this offer we want to increase the satisfaction of our guests and, above all, take responsibility for the environment. The electricity is produced by our in-house combined heat and power plant.
Hotel guests can charge their electric car for free
All electric car drivers are very welcome here. Overnight and conference guests can even charge their vehicle free of charge. While you are charging the batteries of your electric car, we pamper you with delicacies from our kitchen, warm hospitality and comfortable rooms. The hotel's normal parking fees apply regardless of "recharging".
Our hotel with a charging station for your electric car – practical, comfortable and environmentally friendly!
Important information:
Connection: Type 2 plug
Output: 20 kWh per charging point
Number of chargers: 3