Wifi free of charge
WiFi enables you to access the internet wireless in our hotel in Gießen / Hessen.
Whether with your laptop, PDA or mobile phone – all Wifi-compatible devices can be accessed at our Wifi hotspots.
For us, it is standard – especially in today's world. That is why Wifi is available free of charge in our entire hotel.
Sky-Content
It is our philosophy to provide our guests with as much service as possible without being charged separately. That's why we haven't had pay TV since 2010. All 55 receivable channels are free of charge.
All of them have SKY-Cinema, SKY-Sport and SKY-Bundesliga programs on offer for our guests.

See with us:
all games of the 1st Bundesliga in the conference
the UEFA Champions League in a conference or as an individual game
all UEFA Euroleague matches with German participation
all games of the German national team
All films are premiered in German
That's what we call service!
Laundry Service
We'll take care of your laundry. Hand in your laundry for washing, cleaning or ironing at the reception by 9 a.m. Our external service provider will bring you back clean and tidy on the same day!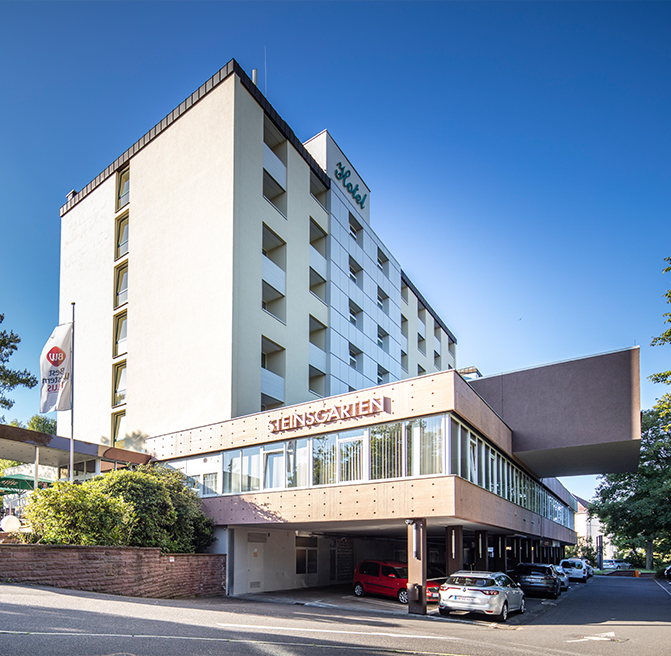 E-charging point
The Best Western Plus Hotel Steinsgarten with its three charging stations for all common electric cars one of the official Tesla Charger destinations since 2018.
There is an e-filling station with three charging stations right by the hotel – two of which are intended for drivers of Tesla electric cars. With this offer we want to increase the satisfaction of our guests and, above all, take responsibility for the environment. The electricity is produced by our in-house combined heat and power plant.
Hotel guests can charge their electric car for free
All electric car drivers are very welcome here. Overnight and conference guests can even charge their vehicle free of charge. While you are charging the batteries of your electric car, we pamper you with delicacies from our kitchen, warm hospitality and comfortable rooms.The hotel's normal parking fees apply regardless of "recharging".
Our hotel with a charging station for your electric car – practical, comfortable and environmentally friendly!
Important information:
Connection: Type 2 plug
Output: 20 kWh per charging point
Number of chargers: 3
Using pool and sauna free of charge
24 hour reception
aircondition in most of the rooms
Massage after availability
reservation for our restaurant
breakfast inclusive
Hotel's own parking lot with costs
copy service
Check in from 3pm and Check out until 11am
acceptance of guests post
Children until 12 years are sleeping in their parents bed free of charge
baby crib 10,00 € per night
extrabed for kid until 12 years 10,00 € per night, from 13 years 30,00 € per night
dog rooms - 10,00 € per night and per dog